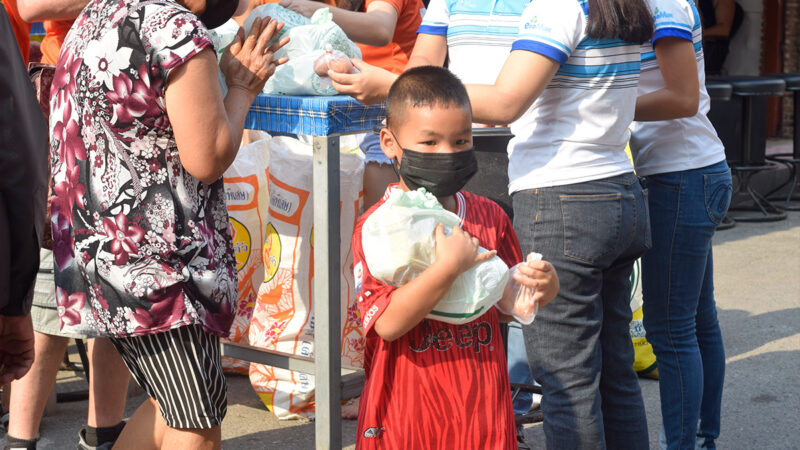 Fundraising for "FREE FOOD FRIDAY"
No Job, No money, No food!
This is where you can help.
We need donations to continue making Foodbag for our Local Thai, they need your support, they have no means of support.
You can help in any way please donate to "Free Food Friday" press the "Donate Now" button, all help helps them




฿135,529 of ฿125,000 raised


All money going to Free Food Friday is just the Bank fee and exchange cost we need to pay.

Coronavirus covid-19 kills in different ways.
We are fortunate in Pattaya that the number of infected people is very low.  So we are very fortunate. However, what a number of us do not realize is the devastation this is causing. Thousands of Thais, who live on Samui now have no means of support. This is the reality right now here – these locals, are your massage ladies, hotel workers, restaurant workers, chefs, cleaners, bar man, gardeners, taxi drivers – they have lost their job and as we all know in Thailand, most of them will come here to work and send money home to their parents/children/family.
During Covid-19, since March 2020, staff and a few regular customers from the Richmond Bar have given out over 10,000 free food bags to the local Thai people. This was an idea thought up to give something back to the people who have made us "foreigners" so welcome.
We need more money for this charity and have together with Richmond Family Sports bar and GLOBSUB in Pattaya set up a Charity night where we have a goal to take in 50.000 baht so we still can give food every week to these people. We could not do this if it wasn't for the kind donations we receive from our friends from around the world. For example, a small donation of £5.00 ( ฿200 or 58sek) pays for 8 food bags, each providing 2 meals.
If you would like to contribute and keep the "Free Food Fridays" going, then please "DONATE NOW". We appreciate all donations and it REALLY does make a difference during this challenging time.
Saturday 5 December we going to Richmond Bar have a great Charity Night and we hope you and your friend can support this charity to help us to make this work as long they need us. If you are in Pattaya you are welcome to the Bar on 5 Dec, on Soi Welcome Jomtien, 7 pm
Link to "Free Food Friday" homepage for more info.
https://heathwoodward.com/free-food-fridays-jomtien/ 


฿135,529 of ฿125,000 raised
All money going to Free Food Friday is just the Bank fee and exchange cost we need to pay.
November 24, 2020
Categories: